Grade.us Review: Online Reputation Platform
Get an in-depth look at Grade.us. We'll cover its features, functions, pricing, and how it stacks up against its competition. With this platform, you can generate reviews and stay in tune with your online reputation.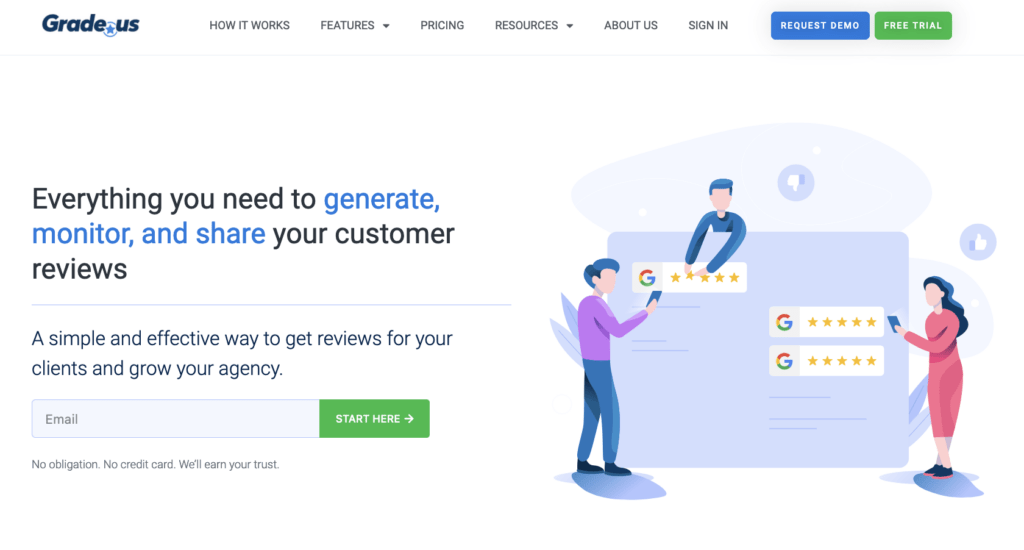 What is Grade.us?
Grade.us is an online reputation and brand tracking platform that generates, monitors, and shares customer reviews.
Grade.us was founded in 2013 as a start-up business that became a major online review industry player. They are part of a newly launched, full suite of digital marketing tools called Traject.
They offer comprehensive and actionable metrics to measure reputation, brand, ESG, and media impact, enabling companies to build a strong reputation and create a competitive advantage. Grade.us also provides solutions to prevent third-party companies from selling sensitive personal information online.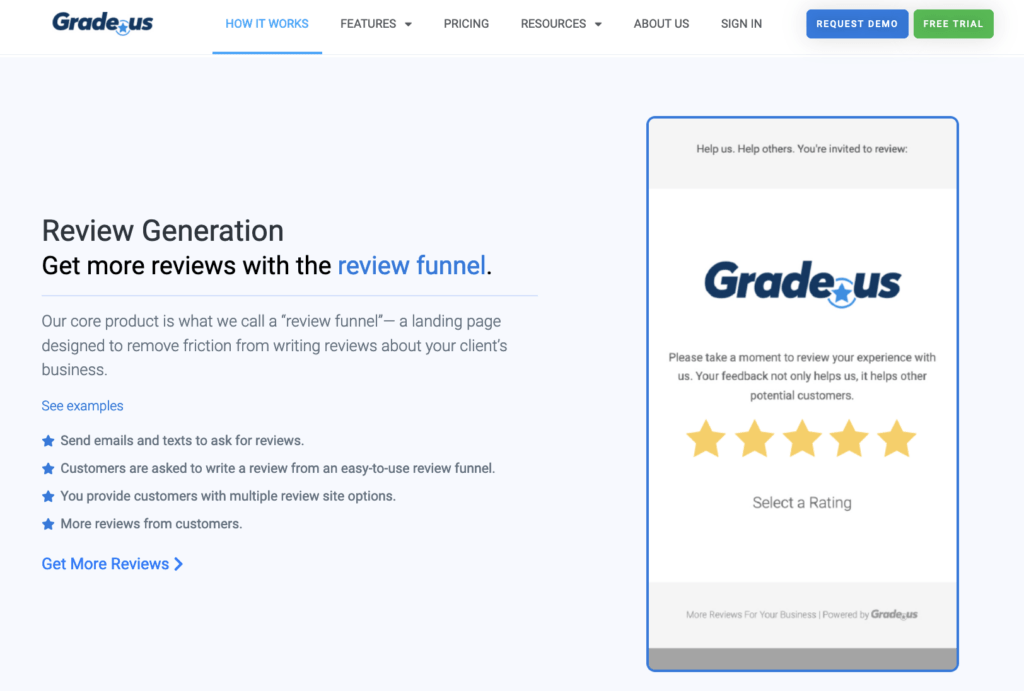 They consist of multiple teams catering to various locations globally. Their ultimate goal is to deliver review management tools that help companies grow their credibility and visibility.
Many businesses use Grade.us by Traject to utilize the "voice of the customers" as a tool to help improve their marketing strategies.
Who is Grade.us for?
Grade.us is a cloud-based review management platform that offers services such as feedback collection, campaign management within a suite, and multi-channel management.
Various businesses use Grade.us by Traject to take care of their online reputation and marketing management, typically freelancers and small businesses.
Grade.us caters to individuals and businesses who are looking to improve their online presence, build and send surveys on the sites they care about, recruit loyal customers to sing their praises through online reviews, prevent third-party companies from selling their sensitive personal information online, and control what shows up when people search for them or their business in Google.
Grade.us Cost and Pricing
(Pricing model evaluation: March 2023)
Grade.us offers services for small businesses and big agencies. They also provide the following programs with options for monthly or annual billing.
SOLO: Available for $110/month and offers 1 seat in a single location. It has unlimited review sites, email review request campaigns, basic white labels, agency/ reseller tools, review streams and social sharing, a floating review carousel, and integrations. This package is perfect for single-location business owners and marketers looking to invest in online reputation management.
PROFESSIONAL: Available for $180/month and offers 3 seats. It comes with all the perks the solo program gets. The only difference being the professional package is perfect for individual marketers, consultants, or small agencies getting started with reputation management.
AGENCY: Available for $400/month and offers 10 seats. It comes with all the perks the solo and professional programs offer. Plus, access to API and premium white label for $440/year. The AGENCY package is perfect for small to mid-sized agencies, local SEOs, multi-location businesses, and other resellers. -$2500 for 100 seats, white label premium, API, single sign-on.
PARTNER: Available for $2500/month and offers 100 seats. It comes with all the above perks plus a single sign-on access. The PARTNER package is perfect for larger agencies, franchises, brands, and enterprises.
Grade.us vs. Reputation Brief: A Comparison
Grade.us and Reputationbrief share many similarities, including review management and review generation services and campaigns tailored to suit potential clients' marketing endeavors.
Grade.us and Reputationbrief also offer aggregation of reviews and the ability to respond to feedback from different review channels such as Facebook reviews, Google reviews, etc.
Grade.us makes it easy to execute the goal of gathering published positive online feedback, which proves helpful in maintaining a favorable online reputation. Setting up the service with Grade.us is generally straightforward.
However, it has been a while since there has been an update to their tools and system. There had also been a problem with their customer service response time and inconsistency of their applications, services, and pricing in the past.
It is imperative to keep these matters in mind when making your decision. Small inconveniences are important when something as grand as your online reputation is at stake.
Both platforms also offer application integration and social sharing, making it easier for businesses to connect with their customers. However, Reputationbrief offers a bit more in terms of personalization and automation features.
About Reputation Brief
Reputation Brief is an automated online reputation management platform designed to help businesses of all sizes manage and market their online reviews.
It provides a streamlined way to generate, manage, market, and analyze these reviews to ensure businesses have a high-quality, positive presence in the e-commerce industry. By automating the process of reviewing and managing online reputations, businesses can increase customer confidence, leading to greater sales and profits.
Backed by guaranteed investors, Reputation Brief pledges continues growth and unceasing improvement in their tools and processes to keep up with the never-ending changes in the online marketing industry.